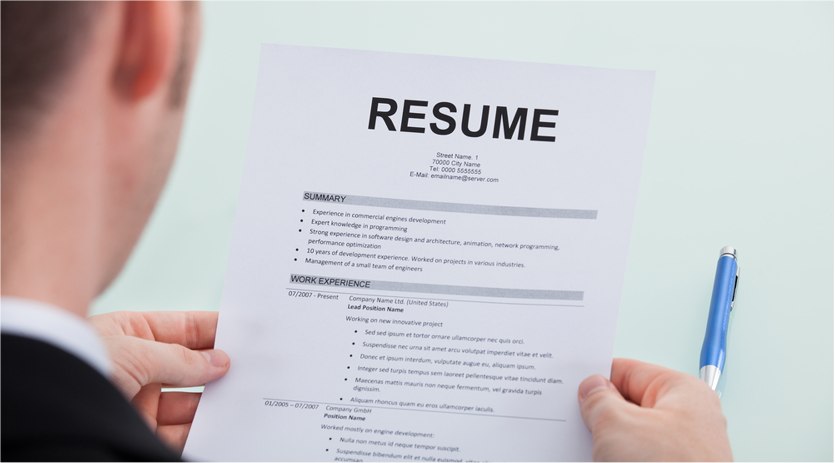 Writing a concise resume used to be a person's first introduction into the competitive world of job hunting.  It didn't matter whether the job being sought was entry-level or the management track, knowing how to sell oneself via a 1-2 page formal summary of professional qualifications and achievements was the first (and, oftentimes, only) chance at impressing a potential employer that you would get.  Despite the popularity of business oriented social media sites like LinkedIn, the importance of having a decent resume holds as much true today as it did twenty years ago.
I can feel the collective eye-roll of most readers at this point, sighing in unimpressed union, "Well, duh!"  If you are among this crowd I assure you that I'm not trying to waste your time (or mine) by typing up a how-to on a matter that is common knowledge.  Given the volume of resumes and abstracts (if one can call them that) I go through on a regular basis, the glaring fact that stands out is the sheer negligence of the most basics of resume writing standards getting ignored by job-seekers entering the workforce nowadays.  For their sake, and my own, I think it's worthwhile to go over some of these basics, one point at a time.
Use a simple Word Processor document

.  There are many resume writing programs and apps on the market now, but I have yet to come across one that's worth its bandwidth when it comes to typing up a plain, to-the-point resume.  A simple Word document that most laptops and desktops already come equipped with is really all you need.

Font and Style

:  Times New Roman is the classic; Arial is acceptable though slightly less business classy.  Anything else, ought to be avoided.  Seeing as how your resume was typed on a computer, and is understood to be read as such, there is no need to use fonts that mimic handwritten or artsy text.  What makes resumes visually appealing to an employer is their legibility, not the amount of fancy swirls or loops you managed to imitate in your text fonts.  If anything, this could be seen as distracting and unprofessional.  Since you never know what quirky pet peeves a person might have, deciding to play on the safer side by sticking to plain script (i.e. Times New Roman, 12-point font) is just a smarter way to go.
Write your name in bold at the top of the page, and center it.  I would advise that your name should be the only thing written in bold on your whole resume to make it pop from the rest of the text, and thereby more memorable to the person reviewing it.  It is also advisable that you write your name in a slightly larger font to further add to the effect (so if you're using 12-pt. font for the body of your resume, go up to 14 or 16-pt. for your name, but nothing else).  While still centered on the page,  write your phone number and email address beneath your name (no need to bold these; your name is the only part we're trying to make pop on the page above anything else, remember?).  A lot of resume tips online will also say to include your address among your contact information, but I would have to disagree with this.  When employers are narrowing candidates down for callbacks, they start looking at the pettiest things to choose from among otherwise equally qualified candidates.  Hence, when they see that Candidate 1 lives 5 miles away, and Candidate 2 lives 15 miles away, they might consciously or subconsciously take this into consideration when making a final decision.  Best not to give them the option to even let it be factored into the equation by not mentioning your exact location so front and center.  [This is a general bit of advise.  If you know that your address will not or cannot be a detrimental factor, and might even be an asset, by all means go for it, and list it.  I'm simply telling you what's been helpful in my experience, having sat on both sides of the hiring table.]
Now, with the basics out of the way, let's get into the actual meat of the matter.  All resumes need to detail the following four sections regarding your professional history:  1. Objective, 2. Qualifications/Skills, 3. Education, 4. Employment History (I'll mention a few words regarding how best to handle References towards the end of this post).
Objective:  Your objective is your one-sentence pitch as to what your career goal is in terms of why you're seeking this position.  I say one sentence, because you should really be able to explain your reason for wanting this job (and the reason why it's a perfect fit for you) as succinctly as possible, and usually when people start typing up two-to-three sentences worth about themselves, they are prone to letting irrelevant/rambling details seep into the text.  A lot of jobs are fast-paced environments that value employees who don't waste time, and demonstrating that you are someone who can communicate your intentions in one sentence, while others take four, goes a long way to speak in your favor.  (And no, just writing one long run-on sentence, filled with commas and semicolons is not a convincing hack that will fool anybody; if anything it will just make you sound long-winded.)  As to what to actually say in your objective, it largely depends on what type of job-hunt you are conducting.  If you are tailoring your resume to a very niche position, in a specific line of work, it's better to speak directly to that.  If however you are job-hunting with more of a general idea of the sort of job you'd like to do, but know that you will be sending this same resume to a variety of different employers, a more versatile wording in your Objective might be applicable.

 Acceptable example:  "Objective:  To obtain a competitive position in a field that will offer continues growth in proportions to my abilities and skills."  Vague enough to apply to a variety of career fields, displays a sense of ambition, but also pays lip-service to the notion that this ambition will be of mutual benefit to the employer and the employee.
Unacceptable example:  "Objective:  To get a job that I will enjoy and with which I can forward my career in the long-term."  Essentially says the same thing, but it's far too casual for employer's to read any further depth into beyond what's stated, and more importantly it is entirely egocentric in its delivery giving the implication that this candidate is someone who will bail the moment the feel that things aren't going their way at work (this may be true of most employees, and any competent employer will be aware of this, but showing that you possess the gift of subtlety and plausible deniability are also highly valued skills on the job market, even if your bosses know when you're try to use these skills on them.)

Qualifications/Skills:  Right after your career objective, you should have a section of your skill sets.  The best format is to list them in tidy bullet points, one after the other, with the most relevant at the top of the list (i.e. relevant as they pertain to the position you are applying for, so feel free to shuffle these bullet points around and personalize them to each position, as you apply from one job to the next).  If you have any certifications or specialized training, this is the time to mention it.  If you know that the position you are applying for requires knowledge of a specific skill that you possess, write it out as plainly and obviously as possible (i.e. if the job will require you to work with spreadsheets all day, say "Proficient in all matters of Excel use, both on PC and Mac OS" instead of the more opaque "Proficient in Microsoft Office systems"–yes, the latter obviously includes Excel, but don't overestimate the attention span of employers and their need to have things explicitly spelled out to them at all times).  Towards the end of your list of skills it's perfectly all right to mention something that, though not completely relevant, shows you to be an interesting, and well-rounded person, but use a bit of common sense regarding what details to share.  Saying, "Extensive experience volunteering with youth groups to help foster a more positive community for at-risk students," is a great humble brag, but saying "Leading figure in the online furry community, actively advocating inter-species acceptance and relations," though potentially intriguing to discuss, probably not appropriate to lay on a potential employer so early on.
Education: State your education as plainly as possible, by which I mean:  Name of school, type of degree, area of study, and noteworthy honors or commendations.  Unless the position you're applying makes a point of mentioning an educational requirement, or your education reflects some unique or prestigious point, there is no reason to overwork this section beyond the basic points mentioned.
The above information should fit within 1 page of a 12-pt typed font, or somewhere very close to it.  Leaving you open to type up the final section on a separate page.
4. Employment History:   As the section's name implies, give a list of  places where you worked.  Self-explanatory, really, but I'll be painfully long-winded about it anyway [because I'm a pedantic son of a bitch, that's why!].
The rule of thumb to follow is that if you have very little job experience, list whatever you can reasonably get away with passing off as "work experience".  Have you ever done volunteer work?  List it, and give a detail of your responsibilities.  If you have done internships, student work-study, lead meet-up groups, whatever…these are all experiences you could use to demonstrate your ability to be productive and efficient in an occupational environment, even if you weren't technically being paid to do them.  And in terms of wanting to fluff your resume to supplement a lack of employment history, or fill in extensive gaps in your employment history, mentioning these specific activities looks much better than trying to camouflage it with  vague concealers like, "Worked freelance projects" or "Self-employed entrepreneur" (unless you've got a legit business card naming you the CEO of a registered company, please don't ever use this designation for yourself–no one is impressed by it).  The point isn't to lie, or make things up in lieu of a robust work history to tout; it's about showing that despite your lack of a standard 9-5 employment history, you are still a viable candidate that should be considered a serious contender for the job.
Now, some people will have the opposite problem, where they have way, way too many past jobs, volunteer work, extracurricular activities, etc., listed under their employment history to the point that they need several pages to fit it all.  If this sounds like your resume, you should definitely consider a rewrite.  If you're applying for a administrative position, and you have several years of of administrative experience, you don't need to list that summer job in McDonalds, or that year you spent as a delivery driver, or the side-gig you've got going on entertaining children dressed as a clown (honestly, adult coulrophobia is so widespread these days that mentioning the last one might work against you full stop; no one wants to take the chance of getting murdered by a clown during business hours).  That's not to say that you can't or shouldn't mention any unique work experiences that only tangentially relate to the job you are applying for, but if your employment history is already running well past 1 page of otherwise relevant work experience, just let said work experience do the heavy lifting at impressing your future employer, and wait to let all that quirky personal charm you've got shine through during the in-person interview.
Now, how do you best summarize a past or present job position on your resume?  Easy:  list the company, list your position, list the time worked there (month and year).  Beneath that type up a bullet point summarizing all your duties and responsibilities.  Be as thorough as you can without resorting to word salads, or simply repeating what's already listed under your Qualification/Skills sections–i.e. type in full sentences, as if you were relaying the information in person.  Depending on how much you did in the position, this may take one sentence or three, but try to keep it within 5 (you're less likely to ramble irrelevancies if you place this limitation on yourself).
Okay–I've teased it, so now let's say a word about References.  Please, please, please, do not write these three words anywhere on your resume in regard to your references:  "Available upon request."  If they are available, and you already have them on hand, moreover if you know this is a job that will request them from you, just have a separate page typed up and ready to show to the employer.  In fact, even if you aren't directly asked for references, you can never go wrong by always attaching a list of references to the back of your resume.  Regardless of whether the employer will make use of the list or not, having it ready and available for them shows forethought and thoroughness, and leaves a very good impression in your favor as a professional and serious job-seeker.  I want to mention that your list of references need not be more than 3 up-to-date professional references (ideally past employers who are at least likely to still remember you by name); give their names, their positions, their relation to you, and their contact information (just a phone number will suffice in most cases).  That's it as far as references go; real straightforward, no need to overthink this anymore than anything else on your resume.
Keep in mind that nothing written here is the definitive word on resume writing, and I'm sure there are several caveats and exceptions I failed to mention simply for the sake of not wanting to take up more of your valuable time (or mine).  And although the above information is tailored to an old-school typed and printed resume format, it can just as easily apply to any other style of resume submission, and even as a rundown of how to organize the sections on one's LinkedIn profile.  Though you should always, without question, have an actual typed resume on hand; if employers just wanted links to your social media they'd contact the third parties Facebook is selling all your personal data to for profit–Heyoo!  What?  Too soon?  Or have we all just moved on from that unethical bit of privacy invasion?
All right then, carry on, and good luck job hunting.