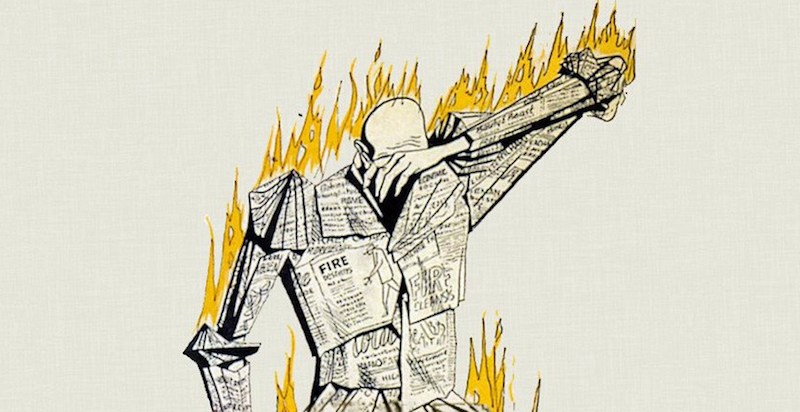 Like the dystopian novels that precede it (i.e. 1984, Brave New World, etc.), Ray Bradbury's 1953 Fahrenheit 451 is set in an ambiguously dated future, where human society has become subjugated by an undisclosed oppressive force.  The book depicts a future whose technological feats have advanced to a high enough pace that it allows the common citizenry to live in relative comfort and bliss–televisions are bigger and brighter, drugs and antidepressants are easily available to ease whatever malady a person may be feeling.  But, despite all of these luxuries, the outwardly happiness feels empty and artificial; something is missing from the humane experience.  Guy Montag is aware of this void in his life, but is initially unable to determine its source.  His occupation as a fireman provides the reader the vital insight necessary to explain the destitute state of the novel's environment.  Because houses (and presumably other structures, too) are designed to be completely fireproof, the duty of the firemen in Fahrenheit 451 is strikingly different from what we normally expect it to be; namely, they start–as opposed to prevent–fires.  Moreover, firemen serve to specifically find and burn books (the forbidden contraband in the novel), due to the items having been banned in the distant past.
It doesn't take long for the reader to realize that the message the author is trying to convey is the importance of imagination and creativity (i.e. literature) in making mankind feel wholly human.  Thus, the book's protagonist, Montag, represents the isolated figure in society, who is being deprived of something he requires to truly function and understand the world around him properly (in this case, that something is the rigor and critical thinking invoked by the at times inspiring, at times agonizing, words of literature).  Although this theme of being unable to live a fulfilling life absent of books and substantive prose is an interesting concept to explore, the part that really makes the novel stand out from others in its genre is the way the author chooses to detail the genesis of the decadent state his characters are living in.
Early on, the narrative vaguely implies that the source of the repression of books in Montag's society is some sort of governmental power, as seen by the comment his superior, Captain Beatty, makes about the state of mind of any person that sees fit to challenge the ban in place, "Any man's insane who thinks he can fool the government and us" (page 33).  The mention of the "government" seems to indicate that the oppressor is the standard Big Brother type, ruling decrees from above.  However, as the story progresses, the reader quickly finds out that this initial assumption, though reasonable, is completely false in light of the reality of things.
Montag's anxiety about his life and work eventually causes him to start to explore the written words in the books he has up to that point ignited for a living.  It is suggested that Captain Beatty is fully aware of Montag's illegal activities, leading to a revealing exchange between the two, which sets the tone for the narrative from there on out, and sets Fahrenheit 451 apart from its dystopian precursors.
The exchange begins with Beatty openly telling Montag about the origins of the nationwide ban on books:
"Once, books appealed to a few people, here, there, everywhere.  They could afford to be different.  The world was roomy.  But then the world got full of eyes and elbows and mouths.  Double, triple, quadruple population.  Films and radios, magazines, books leveled down to a sort of pastepudding norm / Nineteenth-century man with his horses, dogs, carts, slow motion.  Then, in the twentieth century, speed up your camera.  Books cut shorter.  Condensations.  Digests.  Tabloids.  Everything boils down to the gag, the snap ending" (page 54).
What Beatty is essentially describing is the advent of the modern life.  As technology has become faster, and our dependency on technology has forced us to adapt our pace right along with it (i.e. our attention spans have decreased significantly).  Readers in the 21st Century will have no problem understanding this, as we trace the impact technological feats like the internet have had on the way we communicate, retain, and process information.  [What makes the parallel even more interesting is the fact that Bradbury wrote his book in 1953, with little knowledge of just how much more tech-dependent we were to become in the subsequent decades.]  Beatty goes on to explain how this change in technology influenced the way society prioritized itself:
"School is shortened, discipline relaxed, philosophy, histories, languages dropped, English and spelling gradually neglected, finally almost completely ignored.  Life is immediate, the job counts, pleasure lies all about after work.  Why learn anything save pressing buttons, pulling switches, fitting nuts and bolts?" (page 56).
The focus on simply learning the menial tasks one needs to get by in a job takes away the individual's burden to challenge, or even contemplate, her/his surroundings with any real depth; one does what one knows, because no one is taught to do anything more.  Of course, this routine also leaves people with a certain amount of leisure time, which must be filled with enough distractions, lest someone gets tempted to analyze the surrounding world too seriously.  And this is where luxuries come into play–to keep people content, happy, and too comfortable to start upsetting the balancing for everybody else:
"You must understand that our civilization is so vast that we can't have our minorities upset and stirred.  Ask yourself, What do we want in this country, above all?  People want to be happy, isn't that right?  Haven't you heard it all your life?  I want to be happy, people say.  Well, aren't they?  Don't we keep moving them moving, don't we give them fun?  That's all we live for, isn't it?  For pleasure, for titillation?  And you must admit our culture provides plenty of these" (page 59).
The source of the censorship in Montag's world is not some ominous government figure or organization, it is the people themselves who urged for the ban.  As information became readily available to a growing population, the opportunity for offense increased, and the prevalence of offensiveness leads to a decrease in happiness (which can have detrimental affects on the governing order).  Books are a cesspool of offensiveness.  While the right book–with the right message–can inspire a person to great things, no book's primary goal is to keep peace amongst differing ideas.  Books challenge the person, ridicule his beliefs and convictions, and in turn make him less peaceful.  Or as Beatty puts it, "The bigger your market, Montag, the less you handle controversy, remember that!  All the minor minor minorities with their navel to be kept clean" (page 57).  In a pluralistic society, the desire not to offend is very prominent.  But in a free marketplace of ideas the act is practically unavoidable (that which is inspirational and uplifting for one, is insulting to another).
The simple truth is that some ideas are better than others; and some positions are less viably defensible.  However, the means by which we determine which is which, is to debate and challenge one another in the public place of ideas.  But to challenge is to confront, to confront is to antagonize, and it takes little effort for antagonizing to lead to warring.  To fully remove the agitation ideas cause, it is best to remove the incentive for them altogether–make each man "the image of every other; then all are happy, for there are mo mountains to make them cower, to judge themselves against" (page 58).  Yet, even characters like Beatty understand that the artistic spirit of the human mind is naturally drawn to formulating ideas (even if it is often just a recycling of other people's ideas), thus he explains the prominence of feeding mundane trivia facts to the populace (that offer no opportunity for controversy or critical thought):
"Cram them full of noncombustible data, chock them so damned full of 'fact' they feel stuffed, but absolutely 'brilliant' with information.  Then they'll feel they're thinking, they'll get a sense of motion without moving" (page 61).
[I feel the need to add as a side note that, while I can appreciate Bradbury's appeal for the need books provide in creating minds that can evaluate the world critically, it should also be mentioned that simply reading works of literature, and than regurgitating trivial quotes back to others as your own is not the standard of a critical thinker; more than read, one must learn to dissect and scrutinize the words of books.]
The reason why I consider Fahrenheity 451 as separate from books like Orwell's 1984, is the fact that it challenges the popular notion that oppression always stems from the ruling class's thirst for power.  The will of the people can be equally tyrannical, and when convinced enough of its own sanctity, it won't hesitate to impose its will on those who dare deviate from the established program.  The common man is not necessarily the noble spirit of humanity, but the oppressor looking to subjugate others for the sake of keeping himself content:
"It didn't come from the Government down.  There was no dictum, no declaration, no censorship, to start with, no!  Technology, mass exploitation, and minority pressure carried the trick, thank God.  Today, thanks to them, you can stay happy all the time" (page 58).
Once public opinion submits to its desire to be censored and guarded and watched over, it doesn't take much for opportunistic would-be rulers to step in and erode away at the individual's liberties to consolidate their own power.  But one should not forget who sanctions their authority to begin with, and laid the foundation for the systematic coercion that follows.  In Fahrenheit 451, Ray Bradbury makes it clear who he considers "the most dangerous enemy to truth and freedom, the solid unmoving cattle of the majority.  Oh God, the terrible tyranny of the majority" (page 108).  The question that remains now is, how readily can oppression be recognized (let alone combated) if it is being sustained from the bottom-up?
Bibliography
Bradbury, Ray.  Fahrenheit 451.  Ballantine Books:  New York, 1953 (1996 reprint).